Ross and Rachel Are NOT "Goals":
Updated: May 29, 2020
An Examination of A Popular TV Relationship That Displays Unhealthy Ideas Behind Romance
Friends is a popular TV show that transcended generations, and defined many of our childhoods, adolescence, and adulthood. Particularly, Ross and Rachel's relationship holds its own special place in TV, sitcom history. "The One with the Prom Video" used to be my absolute favorite Ross and Rachel moment, as it symbolized a pivotal moment in their relationship. Everything about that scene (and y'all know the scene) is spectacular. From the prom video, the realization building on Rachel's face as the scene continues, the moment Rachel crosses the room to finally kiss Ross after two seasons of buildup, and the gasp of the audience member right before their lips touch. This scene perfectly illustrates a hopeless romantic's dream.
Ever since Friends was released on Netflix, I have been watching it pretty much non-stop for the past three years. But lately, I have become annoyed with Ross and have come to dislike his relationship with Rachel. Maybe it is because I am 21 now and have emotionally matured enough to notice problematic relationship tendencies because I have seen so many of them manifested in my own life. Ross and Rachel may make for a cute TV couple, where their constant back and forth is supposed to be perceived as romantic. But in real life, their version of a relationship would come across as tired and unhealthy.
Ultimately, Ross is awful, and he is an awful partner. When I was a kid, Ross and Rachel's relationship seemed destined to be. They align with the infamous romance trope that says love always prevails through hardship, but you must endure the hardship, for however long, to finally reap the benefits of your relationship. As an adult I realize that Ross is manipulative, controlling, jealous, and insecure. Nobody should aspire to have Ross' traits in their partner.
P.S.: THEY WERE ON A BREAK, NOT BROKEN UP. RACHEL ASKING FOR A BREAK FROM ARGUING, AFTER ROSS HAS BEEN UNFAIRLY PROJECTING HIS INSECURITIES ONTO HER, DOES NOT CONSTITUTE AN EXCUSE OR REASON TO CHEAT ON YOUR PARTNER.
Now, could someone make the argument that Ross is all these things because of his failed marriage with Carol? Sure. But is it Rachel's responsibility to burden the load of Ross' insecurities because he has not healed from Carol's infidelity? No. It is not a woman's job to be a man's therapist or see him through self-actualization.
Now I'll admit, there were definitely times when both Ross and Rachel were petty and immature (like when they were both dating incompatible partners to make each other jealous), but Rachel is a flawed character who continued to grow as a woman figuring life out on her own. She had to learn to come into her confidence throughout the series, trying to navigate her new-found independence, career, and motherhood over the course of a decade. While Ross remained a stagnant, unlikable character throughout the entire show.
But then there is the finale...
Rachel picks her relationship with Ross over a flourishing fashion career in Paris. WTF??? When I was a young girl, I thought this was the most romantic moment between a man and woman destined to be together. As an adult, however, this makes me want to rip my TV out of the wall.
Women often feel they must sacrifice their sense of self for who they love. We think we cannot have a loving relationship with a man and remain entirely true to ourselves the whole way through. What does Ross ever sacrifice to be in a relationship with Rachel? Nothing. Ross never has to change, only Rachel because tired romance tropes convey that women must be the ones to conform and never men. We have also been conditioned to think toxicity defines a relationship, that relationships are supposed to be extremely difficult, but if you both stick with it, you will find the love lost through conflict.
P.P.S.: RELATIONSHIPS SHOULD NEVER FORCE ANYONE TO ENDURE UNHEALTHY, TOXIC, OR ABUSIVE BEHAVIOR IN ORDER TO BE DESERVING OF LOVE.
There is a viral video containing a famous quote from Eartha Kitt, where she discusses the duality of love and compromise. An interviewer asks her "If a man came into your life, wouldn't you want to compromise?" Afterwards, she immediately burst into laughter, (and I think that is my favorite moment ever). Throughout the clip, Kitt is firmly emphasizing how one should not compromise essential aspects of themselves for a relationship. Some people take her advice out of context, but I think she is sharing an important message.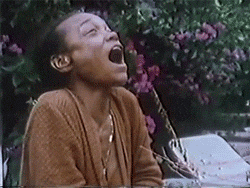 She says, "a relationship is a relationship that has to be earned, not to [be] compromise[d] for." Literally the definition of compromise is to accept standards lower than you are comfortable with. No one should feel they have to minimize themselves to be with someone else. You are not supposed to lose yourself in pursuit of love. A relationship should be earned through compassion, empathy, understanding, and honesty. In conclusion, do not aspire to be like Ross and Rachel, learn to be better.